Welcome to the Farm to Family Organic Buying Club. As a buying club we are ordering as a group. Below is an explaination of the ordering form:
This ordering form is used by many other companies and cannot be edited by Farm to Family. For our purposes of ordering you can ignore the first two columns and only use the entry box to order the quantity of an item that you want. You are ordering items by the each or the pound. Some times an each order is for a sepcified weight. For instance 4.8 ounces is an order of Japanese Shitake Mushrooms. Some items are ordered by the each and sold by the pound. For example cabbage. You would enter a 1 in the entry box and we would weigh that cabbage and adjust your total accordingly during packing. Please use only whole numbers or decimals in the ordering boxes. Never at # for pound, or LB, or use the expression 1/2, only use whole numbers or decimals. One and a half pounds would be written this way, 1.5
Also you can go back to your ordering page as often as you wisht to make changes, increasing or decreasing amounts that you have ordered. You are not locked into your order amount until the ordering page cuts off on Tuesdays at Midnight.
The First Column the amount that has already been ordered for the item you are considering.
The Second Column will indicate the count or weight to make a complete case
The Third Column is where you enter an amount you may want of the item
The unit measurement for the item is in column six. Meaning Ea for each, LB for pounds etc.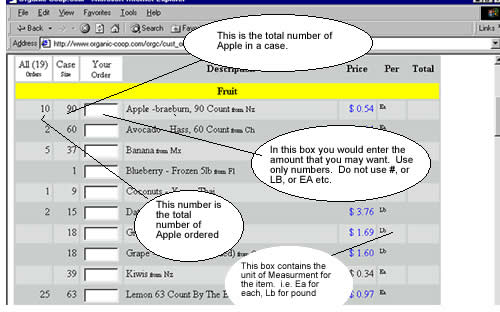 If you are just visiting the site and do not want to sign up you can View the Availability for Organic Fruit and Vegetables, and Dairy. If you want to order you must sign up so that the system will be able to know who you are, your email address, your phone number, etc.
When you log in to order, the availability will be displayed on your personal ordering page and you can add and removed from that page anytime up to closing time which will be midnight on Tuesday. Everything will be ready for pickup or delivery on the Wednesday.
At this time we are not shipping UPS out of the Gainesville Florida area.
Remember you can add and remove from your ordering page any time up to the cut off time. Always feel free to email me or call me if necessary 386-462-1701 (Don) . . . don@farmtofamily.com
Joining the club is free, and it is quick. So if you have not signed up yet, please go to the signing up form and join.